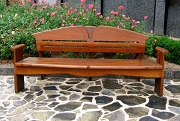 Product by:
All Gardening


Alice Bowe Garden Chair allows you to enjoy your garden and boost its Beauty at the same time, as an outcome it plays a very important role in your garden design.
In every garden designed Alice Bowe selects garden furniture with aesthetics in her mind.
Therefore while looking for the great piece of furniture; she also keeps a close eye on eco-friendly.
Recommends:
Choose a natural over synthetic material Garden furniture that is made from a wood for instance is not only more environmentally friendly but blends perfectly on natural surrounding as well.

Choose local sourced materials Supports locally source materials such as English Oak over imported woods.

Choose recycled or claimed materials these are without a hesitation the most environmentally friendly choice.

Choose garden furniture that is either Stained or untreated or painted with eco friendly coatings. Some kinds of wood such as teak do not required any protection in the form of stain and paints to make them great for outdoor use.
Other useful Tips on Gardening Furniture Selection:
High Quality materials -most of the types of materials are available in different quality grade. It is great idea to invest in the highest quality garden furniture because in the long term it will Cost you less that that made from lower quality material.

Quality Workmanship – If you want your garden furniture to long last it is crucial that it meets the highest quality workmanship standards. You are recommending buying from reputable brands that offer a full guarantee on their product.
Please use the Contact form on the right for Alice Bowe Garden Chair information and ordering.