Anglia Solar Thermal Product details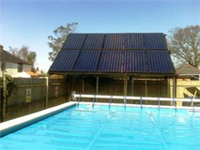 Product by:
Anglia Easy Energy


Recent studies have highlighted the environmental problems related to the use of conventional sources of energy like coal, oil and natural gases. The studies have shown the unsustainable nature of such energy sources and the damaging effects to our environment. Benefits offered by renewable systems are outlined.

Solar systems are experiencing rapid growth worldwide, because of this solar power that has become the intelligent Alternative to fossil fuels, particularly with advent of peak oil, along with wind and photovoltaic application.

Solar Thermal Technology reduce heat directly from the sun, delivering heat up to 70% desired temperature for domestic and industrial use, in this generation Solar Thermal application are in use for swimming pools and spas, domestic water, Commercial and industrial heating.

This technology guarantee save your electricity billings and less more affordable for you!

Anglia Easy Energy has designed and built a Solar Thermal System that provides an overview of the technical Design and installation related issues and use of large- scale. We offer limited service at affordable prices from DIY to trade and wholesale supplies, our intended was to provide a quality product at affordable prices with a professional service.

Please use the Contact form on the right for Anglia Solar Thermal information and ordering.