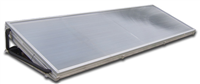 Product by:
AES Solar Ltd


This product is combined with a light-weight; twin-walled glazing that possesses great optical properties while creating an unrivalled outer thermal insulation layer, ensuring that solar energy is retained within the panel for water heating.
Aes Solar systems are centred on the Aes Solar Collector, A Enterprise that is the culmination of over 30 years of experience in the solar industry.
Utilising a high productivity, selectively coated Aluminium absorber plate that is metallurgical bonded to a rhombic copper waterway.
The Aes Solar Collector supply superior heat absorption and conductivity as well as long-term durability.
• High efficiency panel that are extremely light-weight, facilitating installation without the need for additional plagiarism equipment.
• Multiple collector size and configuration allowing optimal solar specification for each system design.
• Bespoke collector design options to suit any requirement
• Proven design and technology, System installed more than 25 years ago are still providing hot water to design original specification
• manufactured and design exclusively in Scotland
• Tested to BS EN 12975. Accredited under the low Carbon Building Program
Please use the Contact form on the right for Aes Solar Collector information and ordering.