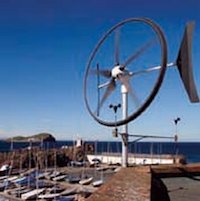 Product by:
Renewable Energy Services


Have you ever thought about setting up Wind Power on your Rooftop? Here at Renewable Energy Services, we offer the latest green and eco innovations and services. When most people think about Green Energy installations on their roofs, generally they only think solar. Well, that's all about to change.
Our Wind Energy System is designed to sit comfortably on your roof. It is the world's very first building mountable wind turbine featuring unique and specially engineered aerodynamic technologies for silence, safety and efficiency.
With demand growing worldwide, this award winning eco design icon has been generating clean and green energy for residential homeowners, community and commercial groups for over five years.
Another great thing about this system is the lack of sounds they are produced. In any wind condition, it will generate less than 35 decibels of noise - thats quieter than a whisper!
This Wind Power on your Rooftop innovation gives a great sustainable solution - saving you money and saving the environment too.
Please use the Contact form on the right for Wind Power on your Rooftop information and ordering.