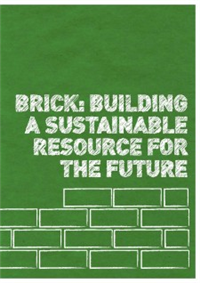 Product by:
Wienerberger


Sustainable Wienerberger group has been manufacturing quality clay Building products since 1819 when they opened their very first factory in Vienna, Austria. Currently the Wienerberger operates a total of 229 plants in 27 countries.
Today, Sustainable Wienerberger Ltd offers United Kingdom customers one of the broadest product portfolios in the business, including clay facing Bricks (stock and wire-cut), expert engineering bricks, domestic and commercial pavers, including the Corium cladding system and a full range of concrete, clay and slate roofing products.
The latest addition to the United Kingdom offering is Ceram-validated Porotherm clay block, a accuracy engineered structural wall system which is widely used across mainland Europe.
They believe that the use of natural clay products aids to deliver a sustainable environment which is artistically attractive and architecturally sympathetic to its surroundings.
Worldwide, this company is committed to minimising its environmental footprint and to maximising the enduring sustainability of the built environment and the United Kingdom Warnham factory has become the first Brick manufacturing facility to be qualified with the responsible sourcing standard BES 6001.
As the world's leading manufacturer of bricks, they regard the economy as an integral part of society. Their duty is to serve people and generate benefits for all.
Their aim is to create sustainable values with natural products a residential environment of life-long quality and safety for their customers, a sound investment for their shareholders and attractive jobs for their employees.
They take their role as a responsible member of society seriously and show in accordance with economic, ecological and social principles and in order to remain successful in the future.
Please use the Contact form on the right for Sustainable Wienerberger information and ordering.