Sustainable Paper Bag Product details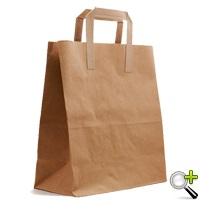 Product by:
Packaging Environmental


Sustainable Paper Bag is made from recycle and sustainable forest paper.

The Sustainable forests are managed under carefully planned guidelines so as to maintain their productivity, biodiversity, and regeneration capacity.
Recycled paper recreates waste away from landfill and reduces our dependence on Commercial forestry and virgin paper.
This product is used for direct Food contact.
• Product Code: HCB-02
• Case Size: 250
• Product Dimensions (mm): 219 x 108 x 311
• Case Dimensions (mm): 235 x 330 x 270
• Pallet Quantity (Cases): 36
• Case Weight: 5kg
Please use the Contact form on the right for Sustainable Paper Bag information and ordering.