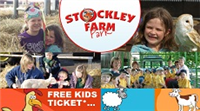 Product by:
Stockley Farm


Stockley Farm Park planned an action packed year 2013 for you guys, so come and join us, feel the fun and excitement with your whole family.
Stockley Farm Park has the following attractions for you to enjoy this springtime:
• The fun starts with a tractor – you will start your day with a tractor and trailer ride starting from the car park down to the lively farm.
• Animal Sheds – a wide variety of Animals that you can visit around the farm, meet and greet with our cows, calves, pigs, goats, horses and sheep.
• Pet's corner - check our pet's corner and be amaze yourself, children has the chance to hold a Baby rabbit, guinea pig or a chick, with our friendly staff at your service.
• Bottle feeding time – it has never been this fun in the farm, children and parents has the opportunity to bottle feed the baby lambs and goats.
• Sheep racing - join in the fun with our sheep racing time, pick a winner and cheer on them, activity starts daily at 2 pm during holidays.
• Birds of prey displays – held every weekend and during school holidays. You can also watch the birds in our Birds of Prey centre.
• Milking time – we extract milk from our over 200 dairy cows and visitors can watch the cows being milked every afternoon from 3.30 pm onwards.
• Willow Barn Tea Room – relaxes and enjoy a variety of homemade food served daily in our farm Tea room. We also serve locally made real dairy ice cream from our own dairy cows.
• Indoor play areas – we just recently extended our indoor play facilities such as sand pit, straw bounce, giant inflatable Noah's Ark and sit on toy tractor ideal for 5 years & under, all for you to have fun with your kids and the whole family.
• Outdoor play area - we offer different kinds of play equipment suitable for your kids to enjoy.
• Woodland nature trail – take a walk through our woodland nature trail and experience nature at its best anytime of the year.

Please use the Contact form on the right for Stockley Farm Attractions information and ordering.