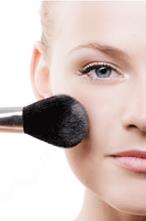 Product by:
Green People (Babies and Children)


Green People has been a leader in Skin and Earth Friendly Make Up since 1997. We also feature a wide range of Organic Skin Care Products and Green Beauty Products including: shampoos, face creams, lotions, sun lotions, body washes and more.
With up to 60% of what we put on our skin being absorbed into our system through the skin, it's important that we use the best and most natural products possible. This is because synthetic chemicals - such as SLS - can enter into our liver and go straight into our bloodstream.
Unlike food, these chemicals are not degraded and are known to cause harm to our bodies when in isolation.
These chemicals can end up causing eczema, allergies and immune disorders.
Our mission is to to promote an organic and wholesome lifestyle. Good quality Eco Health And Beauty products is one way to improve your system along with a balanced diet and exercise.
Our Skin and Earth Friendly Make Up is packed with active, certified organic ingredients that will benefit your health and well being.
Please use the Contact form on the right for Skin and Earth Friendly Make Up information and ordering.