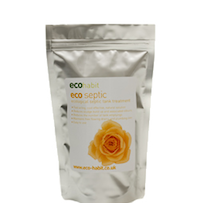 Product by:
Eco Habit


At Eco Habits, we have the product for your Septic Tank Sewage Treatment to help you eliminate the smells and maintain a clean tank.
Our popular biological septic tank Waste Management and Treatment and will also save you money on the unnecessary water pump out costs. The featured water-soluble sachets is so easy to use and easy to dispose - you just flush it away. It also gives year round maintenance, so you won't need to think about it for a long time.
This is not only a Environmental Management and treatment option, it will eliminate any smells, wet spots, backups, flushing drain and toilets problems too.
It is designed to restore the natural ecological balance in your tank in which can be destroyed by chemicals. This is because bacteria in your tank is important to maintain functionality.
Septic Tank Sewage Treatment will keep the lines clean, free flowing and problem free. It is not only 100% natural and non-hazardous, but also has many green credentials. It will boost the ecosystems, meaning that it'd result in a more efficient tank.
Please use the Contact form on the right for Septic Tank Sewage Treatment information and ordering.