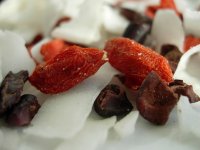 Product by:
The Natural Store


At the Natural Store, we feature Raw, Natural and Organic foods has taken the world by storm. It's super nutritious, super tasty and super healthy for your wellbeing. It's also a great detoxing method as it allows the body to be more connected to what nature has to offer us.
Living in a fast pace modern society nowadays makes it difficult to be in turn with nature. It's definitely not an easy job to integrate Organic Fruit And Vegetables into our everyday living.
This is where our Raw Organic Superfoods come in. We offer a wide range of Certified Organic Food Products in our online store so you can purchase them any time you want.
We offer anything from raw foods to wholesome and nutritional superfoods:
• Acai Berry Powder
• Barleygrass & Wheatgrass
• Organic Cacao Beans
Please use the Contact form on the right for Raw Organic Superfoods information and ordering.