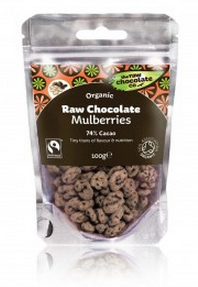 Product by:
Wikaniko


Wikaniko is passionate about helping families to become more green and more healthy without draining their wallets.
From our food section, we are especially fond of our Raw chocolate coated mulberry snack. It's a great and healthy combination of delicious raw chocolate and Certified Organic white mulberries.
Raw Cacao is nutrient rich containing over 300 nutritional compounds per serving (as they are often lost when the cocoa is heated)
Mulberries are sweet and mouthwatering - a natural source of essential vitamins and minerals . It's also rich in cancer fighting antioxidants.
This healthy Eco snack contains: Organic Mulberries 44%, Raw Chocolate 56%, Organic Fairtrade cacao mass, Organic coconut palm sugar, Organic Fairtrade cacao butter and Organic Fairtrade cacao powder.
Please use the Contact form on the right for Raw Chocolate Coated Mulberries information and ordering.