Organic Lovely Card Product details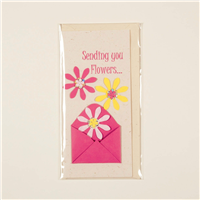 Product by:
The Exotic Paper Company


This Organic Lovely Card with a small pink envelope on the front bursting with cute bright colourful Flowers is ideal to brighten up anyone's day.
This Lovely Card is Handmade using 100% recycled paper and elephant dung.
This product comes complete with a 100% recycled Ellie Poo envelope.
These unique, handmade and Ethical cards are all 100% recycled and all made within the United Kingdom.
Please use the Contact form on the right for Organic Lovely Card information and ordering.
Other The Exotic Paper Company Products
1 listed

Paper is something we use all the time, everyday. However, it's production is not environmentally sound - even the recycling process can involve toxic ingredients. ... more »
Recycled Paper –
Recycled –
Green