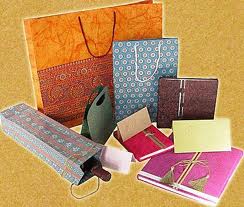 Product by:
The Exotic Paper Company


Paper is something we use all the time, everyday. However, it's production is not environmentally sound - even the recycling process can involve toxic ingredients.
All our paper from our range of Environment Friendly Products are not only 100% Recycled from local waste, but they also contain no forms of bleach, artificial detergents and corrosive acids.
The annual paper usage in the UK is 750 thousand kg and 75% of that is thrown away, not recycled. Our environment can benefit from Recycled Paper as it'd help reduce landfill and save energy.
Although it does take energy to recycle paper, it is still the more energy efficient way as the recycling process only require half of the total energy compared to pulping wood.
Here at the Exotic Paper Company, all our paper products are 100% regulated by the National Association of Paper Merchants. This means it's totally and completely made from recycled materials.
We have a whole range of Environmentally Friendly Paper Recycled from materials like grass, animal dung, banana, straw and even demin.
Please use the Contact form on the right for 100% Environmentally Friendly Paper Products information and ordering.