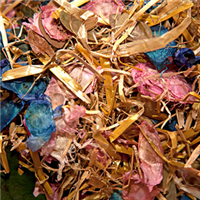 Product by:
Leavs


Organic Leaf Harvest Gold is a combination of soft golden Barley straw mixed with natural dried and coloured leaves to add visual colour to highlight the natural gold of the Barley straw, also added a delicate hint of summer fragrance.
Each leavs negated fill packaging product possesses different properties, making them suitable for a varied range of packing requirements.
Due to the ecological, organic nature of the Materials used some variation is predictable.
Leavs always do everything to make sure the end result is an attractive and Effective packaging solution.
• Ratio: 85% straw and 15% Leaf
• Volume: 1kg = 28 litre volume
• Recycling Options: Natural Pot-Pourri, Pet litter and Compost.
This packing is great for packing light-weight products.
Please use the Contact form on the right for Organic Leaf Harvest Gold information and ordering.