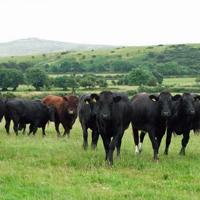 Product by:
Luddesdown Organic Farm


Here at Luddesdown Organic Farm, we pride ourselves with our juicy Certified Organic beef and pork.
They are not only home-bred on the strict standards of Green Farming Practice and the Soil Association. they are also tender, succulent and 100% delicious.
The animals we have there are all born and bred on the Luddesdown Organic Farm. This means that the total traceability is totally assured.
Our beef and pork are produced on our Organic Farm and lives by Eco Farming.
The single suckler herd resides in close groups where each cow would rear one calf annually. They eat our quality silage that is grown on the farm. We use no growth promoters and we don't take part in force feeding.
We work extra hard to make the best possible living conditions for our animals. That is why our Certified Organic beef and pork is the best you can get.
Please use the Contact form on the right for Organic Beef and Pork information and ordering.