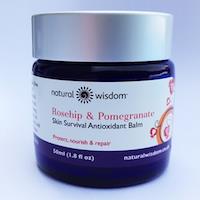 Product by:
Natural Wisdom


Here at Natural Wisdom, we are a small Natural and Certified Organic Skin Care Products business. We are a homegrown British skincare and Beauty Products company with a strong passion for eco and ethical values.
We try to make the best natural and organic and Natural Beauty Products possible using the wonders of cold extracted and virgin seed oils, butters, pure essential oils and botanical extracts.
All our Natural and Certified Organic Skin Care Products are specially designed and made from super active and natural ingredients. When we say that our products are cold blended, what we mean is that they are far more concentrated in nutrients and goodness than conventional skincare products.
Because our products and items are cold blended, this means that we produce them to be 100% free from any sort of synthetic processing ingredients, any wax emulsifiers, refined oils, bulking agents, fillers and those toxic ingredients. Hence, this also means that we are free to fully support what we love - which is sustainable, organic and ethical practices.
Please use the Contact form on the right for Natural and Certified Organic Skin Care Products information and ordering.