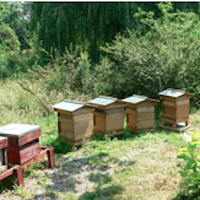 Product by:
Pure Food Regents Park Honey


Pure Food makes Regents Park Honey which is the the finest Natural London Honey you can get.
One of the questions we get a lot is "Why London Honey? What makes it so special?" One of the most amazing things about London is that it has a great diversity of Flora and Fauna. Here at Regent's Park London, we have a great range of flower species.
This makes our honey much more interesting than any other country honey. The taste, colour and texture of our product will change with the flowers season by season. This is because the bees get the nectar from throughout the the year.
During our Spring and early summer periods, our honey is light and almost liquid like. This year's June batch had a subtle taste of elderflowers and limes. Some years ago, we had a honey that really tasted of roses during summer. However, as we go into autumn our honey becomes darker and a bit spicier in flavour and texture.
Another advantage of our Natural London Honey is that the urban flowers are in fact, not sprayed with a vast amount of chemicals. Unlike those ones from the countryside, our honey does not contain remnants of artificial pesticides.
Please use the Contact form on the right for Natural London Honey information and ordering.