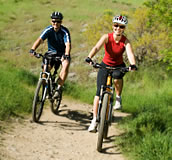 Product by:
Ace Outdoors


At Ace Outdoors we have the finest Bike trails in the country if you are living near in the Peak District, whether you fancy a circuit of the kinder Reservoir a longer ride in the lady bower or Derwent valley or loop ride on the moors, we have a number of classic route to guide you.
We all know that Mountain Biking is fast growing in our popularity and now we are offering a number of courses aimed at the introducing you to this lovely exciting world.
We do not have our own fleet of mountain bikes, and you must bring your awesome mountain bike and equipment with you on the day. If you don't have a group or the necessary equipment, we are absolutely can hire bikes for you on a daily basis and it Cost you normally about £25.00 per Person.
All of our Biking Courses are located in the Peak District as it offers a varied choice of terrain; we have different trail option for the beginner, to more technical routes for young riders.
Course:
• Trail Riding Fundamentals 1-Day (Introductory Core Riding Skill)
• Intermediate Skill Course 2-Day (Peak District).
• Essential Navigation Skill for the Mountain Biker 1-Day Course
• Guide Trail Rides in the White Peak (Short Adventure Breaks)|
Experience the adventurous Mountain Biking!

Please use the Contact form on the right for Mountain Biking information and ordering.