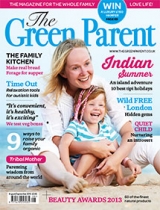 Product by:
Thegreenparent


We are a group with a passion for raising our children to love, enjoy and respect Mother Nature.
This is not only the UK's top Green Lifestyle and Natural Parenting magazine, it is a combination of intelligent journalism, recipes and discussions on all green and eco topics.
At The Green Parent, we're not only a Magazine designed for Eco Parenting. This is because we cover topics about babyclothes, Cloth Nappies and attachment parenting all to education and alternative/natural medicine.
We are a Sustainable Magazine with each issue featuring columns on:
Organic Gardening, Seasonal Food and Drink, Green Travel, Ethical Fashion and more!
Please use the Contact form on the right for Magazine designed for Eco Parenting information and ordering.