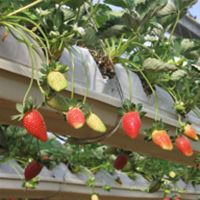 Product by:
Green's Horticulture


We at Green's Horticulture aims to encourage alternative and Eco Friendly Gardening techniques everyone interested the horticulture.
Hydroponics is a new method of planting and gardening. It doesn't use soil - it uses mineral nutrient running water instead.
We feature AquaFarm and WaterFarm. They are very versatile hydroponic systems, ideal for nurseries, greenhouses, tropical plants or even your own culinary plants of all sizes.
The plants are grown not in soil but in a chamber with clay pebbles and nutrient-enriched flowing water. This technique gives the plants nutrients with oxygen right into the root system, encouraging plant growth.
Growing plants with Hydroponics can be some what considered as organic as well. That is, food grown using this method can't be officially or Certified Organic. But, we have a large range of Organic nutrients and natural boosters free from any chemical nasties. It's one of the best ways of Organic Gardening with guaranteed great results.
Please use the Contact form on the right for Growing plants with Hydroponics information and ordering.