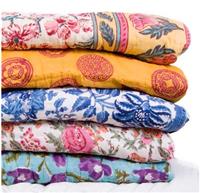 Product by:
Natural Quilts


At Natural Quilts, we pride ourselves in our Ethical and Eco-Friendly Handmade Quilts.
All our products are of the best quality and style around. You can enjoy the luxurious feel of a super soft, lightweight, natural and comfortable summer quilt. You can cocoon your little baby in the soft comfort of our organic cotton Indian quilts. Or even better, wrap yourselves up in our cuddly cotton "quillow" - designed for your Beds and comfort.
These lovely comfortable cotton Indian quilts are handmade and printed in India. They fit the natural and Green Bedding scene because mainly eco-friendly vegetable dyes are used in the printing. Our Indian quilts are soft and will keep you snug, yet allow your skin to breathe at the same time.
All our Ethical and Eco-Friendly Handmade Quilts are made from 100% natural cotton and dyes. Some are also made from Organic materials and are free from harmful chemicals.
Please use the Contact form on the right for Ethical and Eco-Friendly Handmade Quilts information and ordering.