Ellie Smellie-Lotion Product details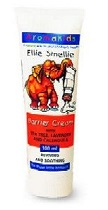 Product by:
Baby Treasure Trove


A Cream that has the Essential Oils tea tree and a fragrance of lavender.
It has the combination of Witch Hazel and Aloe Ferrox, which keeps away your kids from rashes.
Aromakids Ellie Smellie barrier cream will help prevent rashes on your kid's bottom. It is recommended by independent bodies. After using the cream, if rashes persist then please consult a Health Care professional.
• Product code: hc042
• Price:£3.89

Please use the Contact form on the right for Ellie Smellie-Lotion information and ordering.