Contemporary Jewellery Design
Contemporary Jewellery Design Product details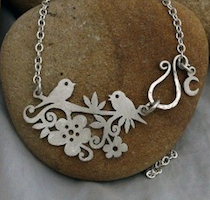 Product by:
Hairy Growler Handcrafted and Recycled Jewellery


Enter a realm where pennies turn into pendants and simple cutlery become couture.
We at The Hairy Growler jewellery takes the Natural twinkle from mother nature, the magic of fantasy to bring in a collection of beautiful contemporary jewellery design.
Each of our Handmade Design pieces from 100% recycled raw materials - from Sterling Silver, old English coins, to the Victorian cutlery.
Although none of our pieces are really Contemporary Art, they are all Hand Crafted and original - made with 100% love and care.
Please use the Contact form on the right for Contemporary Jewellery Design information and ordering.