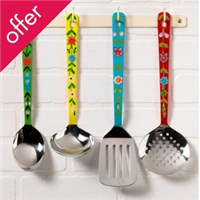 Product by:
Spiritofnature


Carnival Serving Utensils, a hand painted vibrant coloured, carnival designed serving utensils that will surely brighten up your kitchen.
This beautifully hand painted serving utensil set is made by Traid craft. The design is inspired by the illuminating patterns of Indian Art and the rickshaw Artwork used by drivers in decorating their vehicles.
Carnival Serving Utensils, was designed by skilled artist at fair trade producer group called Noah's ark. The product is specially made from stainless steel proven to be safe for food.
Carnival Serving Utensil set contains 4 vibrant utensils and a Chic cream hanger. For long lasting design, please use mild dishwasher and non-abrasives in cleaning the product.
Product code: 267683
Shipping Weight: 200g
Order now and save 24% (£8.57), at a very affordable price of £25.69.
Please use the Contact form on the right for Carnival Serving Utensils information and ordering.