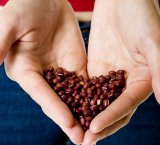 Product by:
COAST B&b


The Bean Inn Restaurant is listed as one of the Britain's top 10 vegetarian Restaurants.
Bean inn is born on 2003 and it's a reputation has grown gradually throughout the years.
It is the popular choice with both locals and tourist costumers.
They are proud of their reputation of being something of an institution on the Cornish Scene and offering diners in West Cornwall a gourmet vegetarian experience.
They aim to offer you some of the tastiest vegetarian and vegan dishes from around the world, taking you the best flavours means using the best quality ingredients.
They use local, organic suppliers and seasonal produce every time possible.
The restaurant increase the stay of the quest at Coast BRB by offering evening meals most of the nights of the week and providing a comprehensive range of delicious Breakfast option.
Bean inn is proud to share their love of Food with all of their costumers, and they are hoping that their dishes will inspire, indulge, comfort and delight to all of their costumers.
Please use the Contact form on the right for Bean Inn Restaurant information and ordering.