BareNaked Eco Soaps Product details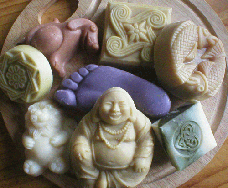 Product by:
The BareNaked Soap Company


The best Eco Beauty Products for your skin should be all natural. Just like our 100% handmade and 100% Natural Soap, which contains only the simplest blend of natural ingredients.
The saponification process here at the The BareNaked Soap Company is very simple. What we end up with is a mild soap, perfect for sensitive skin.
Nothing in our own range of BareNaked Eco Soaps is unnecessary. Every ingredient is there for a reason. These natural soaps only contains: Vegetable fats and oils, Natural colourings and Natural fragrances
Please use the Contact form on the right for BareNaked Eco Soaps information and ordering.