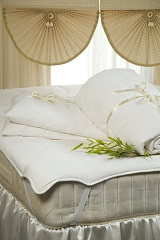 Product by:
Between the Sheets


These two great range of Bamboo bedding. The Great Duvets and comfort Mattress Topper.
Wonderful Duvets recommend a new sleeping experience. Bamboo has a very lightweight so that you get an excellent drape around your body as you sleep. It is very soft and silky, the floss filling is 100% Bamboo Fibre and the shell covering is 100% Bamboo Fabric.
Duvets comes in a range of 4.5 tog- summer weight and 9 tog for autumn/ spring weight-or combine the 2 duvets with integral loops for the winter.
Ideal comfort mattress Topper adds a soft top to your mattress and gives you 100% bamboo sleeping surrounding. It has a large advantages over Cotton-Bamboo is stronger, softer and more glossy. And three times more absorbent that cotton it wicks away moisture so it warm in winter and cool in summer.
Bamboo Bedding Duvets and Topper is the First 100% Bamboo Bedding range in United Kingdom and available in all bed sizes for both for the United Kingdom and international sizes and they are all in natural white finish Bamboo.
This range of bedding is gorgeously complimented by range of 100% Bamboo Bed Linen. Range is available both Plain Colours and Printed.
The softness is perfect for Babies and those with sensitive skin. And they are Awesome Bedding for any home.
Colours:
• Almond
• Duck Egg Natural White
• Conker
Please use the Contact form on the right for Bamboo Bedding Duvets and Toppers information and ordering.