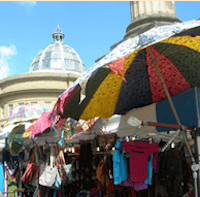 Product by:
Keen Green Events


For us at World Market Square Group, we provide a organisation and meeting place for everyone who are interested in creating and experiencing vibrant events that amazes and wows. One of our most popular events is the World Village Market.
This event aims to build a street event that provides colour and character to everything fresh, organic and healthy. It mixes culture with the Sustainable Farming, giving awareness to Organic Fruit And Vegetables, our environment.
We attract a good many traders and people every year. We are also committed making the World Village Market more environmentally friendly by:
• Low carbon emission
• Ethical and Fair Trade Products
• Plastic bag free
• Traditional Craft Demonstrations
Please use the Contact form on the right for World Village Market information and ordering.