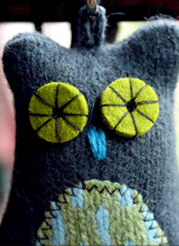 Product by:
TreeTwist


A TreeTwist is an adorable is an adorable Green Gift or (or even for yourself) made from fabric. It is a link to your very own dedicated tree - a tree that's special in your heart. It serves as a reminder of our impact on the environment encourages Sustainability.
These TreeTwists makes gorgeous Earth Friendly Presents or Eco Gift Ideas- both designed and handmade for you by local British designer Ingrid Tait from Tait & Style in Scotland.
We know that this Green Gift Idea is not going to solve the world's environmental issues overnight. However, by buying, giving, supporting and wearing TreeTwists you wil achieve two important things:
• Help restore the Caledonian Forest
• Draw attention to our environmental problems.
Our TreeTwists represents not only a Green message - but also faith in a cleaner and more beautiful future. Together, a difference can be made.
Please use the Contact form on the right for TreeTwist information and ordering.