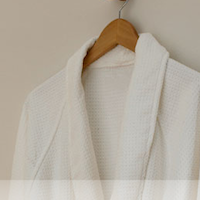 Product by:
Lilli design Ltd


Here at Lilli, we've been producing Sustainable and Eco Textiles for over a decade, with 20 years of experience in the textile industry alone.
We've decided to work closely with fair trade brands and manufacturers of organic fabrics because of our passion for making a change.
We've a lot of experience working with sustainable, green and fair trade production.
We have access with Fairtrade and certified Organic Cotton and Fairtrade audited factories.
At Lilli, we are experts in Sustainable and Eco Textiles. We have high quality Organic and Fair Trade Products including:
• bed, table linen
• bathrobes, towels, slippers
Please use the Contact form on the right for Sustainable and Eco Textiles information and ordering.