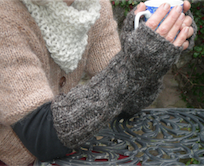 Product by:
Fleeces And Pieces


Fleeces and Pieces is a small local company and we feature handmade knits. They are made from materials that are local, eco Natural and Sustainable.
We have a wide range of products including:
Sustainable Handmade Knits that are warm and toasty - perfect for winter. We feature knits for adults and children. This includes jumpers, jackets, shrugs, mitts, scarves and socks.
Any felted products - from bags to belts and accessories.
We also have a large supply of needles, Holistic wool, hypoallergenic alpaca materials or a 50/50 mix of knitting yarn.
Please use the Contact form on the right for Sustainable Handmade Knits information and ordering.