Sustainable Cutlery Kit Product details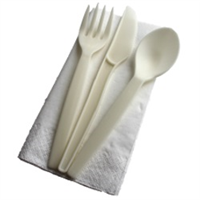 Product by:
Green Gate Bio Packaging


This Sustainable Cutlery Kit contains plant starch fork (6.25″), knife (7″) and spoon (6.25″) as well as a white recycled single ply napkin with a Green Gate printed.
These are all covered in a Biodegradable plastic (PLA) bag.
This is Suitable for use with both hot and cold foods.
This product is perfect for picnics and party.
Please use the Contact form on the right for Sustainable Cutlery Kit information and ordering.