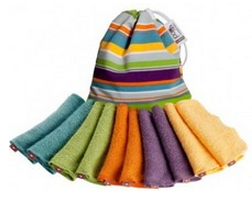 Product by:
Green Mums


One of the best selling Organic Baby Products here at Green Mums are our washable wet wipes.
They are cheap, efficient and eco friendly. They can save you a lot as well - £200 / child!
Best of all, there are no chemicals or anything toxic that many commercial disposable wipes contain. Hence these are much safer and gentler on skin.
These Sustainable Bamboo Wipes are super soft, absorbent and anti-bacterial bamboo too.
They come in a pack of ten, complete with brilliant colours and even a handy dandy waterproof tote bag storage.
Please use the Contact form on the right for Sustainable Bamboo Wipes information and ordering.