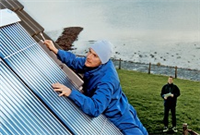 Product by:
Rayotec Solar Power


Solar Water Heating System is made of solar panels that transform light from the sun to solar Energy or heat. This heating system can be used to heat up household water sources or swimming pool or even underground heating.
Solar Water Heating system will surely reduce your utility bills in no time, while at the same time helping our environment by using renewable energy source proven to reduce pollution brought about by excessive use of fuel.
Solar Water Heating system has two types of heating collectors:
• Conventional flat plate collector
• Vacuum tube collectors
We recommend you use the vacuum tube collectors as it is more Efficient than the latter suitable for cold, cloudy and windy conditions.
Evacuated solar heating tubes uses less roof area for solar panels which enables quick radiation response it is moisture proof and makes less Condensation and pollutants to get it to the collectors.
Please use the Contact form on the right for Solar Water Heating System information and ordering.