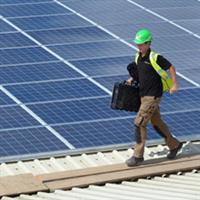 Product by:
Greenearthenergy


Here at Greenearth Energy, we are an accredited Solar Power and RE Installer. We have over ten years of experience in the Renewable Energy Industry and have been doing installation of domestic and commercial renewable energy systems including: Solar Photovoltaic (PV), Solar Hot Water, Wind Systems, Heat Pumps and Biomass heating systems.
Since we began, we have fitted over 5MWp of Solar Energy around Herefordshire, Wales and the SW. In total, we have installed over 25,000 panels. That's enough Green Solar Power to feed the energy usage of over 1000 houses. We think this makes us the largest PV installer in Herefordshire.
At Greenearth Energy we like to look at the whole picture carefully. We work together with our clients to select and install what is the best for them and their requirements. We often get customers happily reporting back to us that their systems are producing more energy than predicted.
As a Solar Power and RE Installer, we provide honest advice and fantastic customer service. We even have a 'whole house' approach to renewable energy - which includes rainwater harvesting, heat recovery, solar, eco-electrics and more.
Please use the Contact form on the right for Solar Power and RE Installers information and ordering.