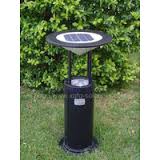 Product by:
Thesolartrader


We distribute anything solar. This means solar powered toys, lighting, solar panels, gadgets and solar chargers.
Here at The Solar Trader, we stock only the highest quality Solar Panels and Lighting. Our brands include Inprosolar toys, EcoEnergy regulators, and Powerfilm flexible panels and we have our very own Solar Trader brand of Flexi panels.
We are passionate about the environment and we love doing ethical business. We understand the importance of Renewable Energy we are very keen to decrease our Carbon Footprint as much as we can. We know the innovation of Solar Power so we all encourage everyone to incorporate Solar Energy into their day to day lives.
Besides all that's required is to stick it out into the sun and let the sun do all the work. There's nothing else to follow except watch the solar power fill up the batteries. It's really just that easy.
Please use the Contact form on the right for Solar Panels and Lighting information and ordering.