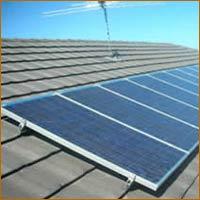 Product by:
Midsummer Energy


We are the team from Midsummer Energy and we're your one stop Solar Electric specialists.
We are proud to be a top for off-grid renewable power system components. We have a huge range of Solar Panels for almost everything - from power for narrowboats to caravans and even motorhomes.
Our framed solar panels are of great value. It includes both monocrystalline and polycrystalline panels, framed with strong and anodised aluminium frames.
We love Kyocera Solar Power panels which are designed to have a power output guarantee of no less than 80%, even after 20 years.
The Sunrise panels newly imported from the manufacturer. They are of great quality at a low price - perfect for anyone who is budget-conscious.
If you're not sure about what size panels you're looking for, have a chat with us, the solar electric specialists. We will give you the best advice and service.
Please use the Contact form on the right for Solar Electric Specialists information and ordering.