Recycling and Waste Management Company Product details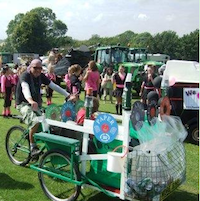 Product by:
More-Bins


More Bins is a Recycling and Waste Management Company and we've been operating for over ten years in the sustainable and Waste Recycling industry.
Our large range of eco services and green products here at More Bins are big enough to support any scale or types of events. This ranges from outdoors to indoors, Street Carnivals through to Sports and even Music Festivals.
We love to make our jobs simple and our Eco Friendly Recycling service is just that. Our product range achieve a zero-waste status.
More Bins is your one stop Recycling and Waste Management Company. We offer professional full event waste management services. Our dedication and great customer service means that our operative teams work great, delivering you clean event environments and friendly expertise.
Please use the Contact form on the right for Recycling and Waste Management Company information and ordering.