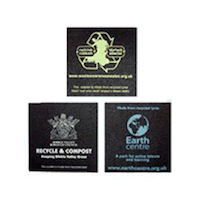 Product by:
Recycled Business Gifts


Here at Recycled Business Gifts, one of our most popular promotional product is our Recycled Tyre Coaster.
In fact we feature many coasters made from recycled and reused material including: CD Case Coasters made from Recycling polystyrene and coasters made from simply recycled plastic.
Coasters are one of the most traditional but practical promotional eco products. The great thing about them is, almost everyone has some at home. Hence, if you printed your logo or message onto them, they'll be seeing it all the time - or at least whenever they come to use.
The great things about having these eco coasters made from recycled material is that it'd benefit the environment and be cost effective whilst you advertise your message.
Our Recycled Tyre Coaster are square coasters made from tyres. Hence this product is a heavy and very durable coaster with a very nice grip.
Please use the Contact form on the right for Recycled Tyre Coaster information and ordering.