Portable Water Bottle-Ohyo Product details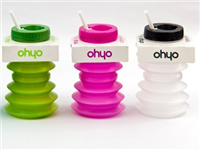 Product by:
ECOutlet


The Ohyo pocket-bottle is Portable eco-friendly replacement to all that bottle water.
The Portable Water Bottle can hold 500ml of water when its full and when it's empty you can just simple squeeze it down and it dissolve to 1/3 of its size and will fit into your poach or Bag so it can easy Carry it with you anywhere you may go.
This product is great to use while jogging and doing exercise.
Please use the Contact form on the right for Portable Water Bottle-Ohyo information and ordering.