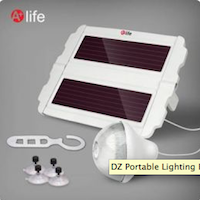 Product by:
Select Solar Toys


At Select Solar Gadgets, we would like to feature our ever popular Portable Solar Lighting Kit.
It is a Solar Electric tool that produces light with Renewable Energy sources. It's super simple and convenient to use. Just put it out onto the sunshine to recharge with the power of solar energy and use it like a normal portable light once it's charged.
It is the DZ-AL002 model from the innovators of DZ Energy. The solar panel comes with an integral battery pack along with a pair of removable side brackets complete with legs. You can stand the panel on a table for more sunlight or stick it your window with the provided suction cups.
The pack has a hook included which means that you can even hang up the light if you wanted. It comes with 6 LEDs and will give up to ten hours of light if the batteries are fully charged.
This Portable Solar Lighting Kit is so convenient, you can use it literally anywhere:
Shed, Garage, On a camping trip, In the garden, during a blackout, and just about anywhere else you like.
Please use the Contact form on the right for Portable Solar Lighting Kit information and ordering.