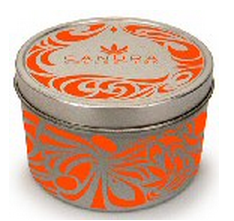 Product by:
GH Gifts


We at GH Gifts offer wide varieties of eco friendly gifts and presents.
We have Bandanas to Hemp products to warm Scarves.
One of our best selling is our range of Organic Scented Candles. It's perfect as a gift to your loved ones or even a treat for yourself. It comes in three different flavours:
• Mystic Mango
• Northern Lights
• Orbital Orange
These Canura Organic Hemp Oil Candles are made from the finest Natural ingredients. They contain clean burning soy wax and hemp seed oil - guaranteed to give you the most relaxing Aromatherapy session you can get at home.
They also come in a luxury recycled tin that can easily be turned into a cool container once the candles have finished burning.
These candles have burn time of 50 hours.
Please use the Contact form on the right for Organic Scented Candles information and ordering.