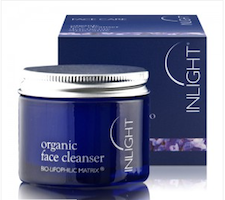 Product by:
Inlight Organic Skincare


Keeping the face clean with a good cleansing routine if the first step in maintaining good skin.
At Inlight Skincare, we are all about good Health and Natural Skin Care as we believe those are the two components that make beautiful smooth skin.
Our Organic Facial Cleanser is designed deeply clean and remove all traces of makeup.
It is pH neutral, 100% organic and free from anything GM.
It's a gentle and nourishing cleanser with ingredients like coconut, olive green tea and rosemary.
This is an oil-based and is ideal for those with acne, rosacea or inflammation.
Please use the Contact form on the right for Organic Facial Cleanser information and ordering.