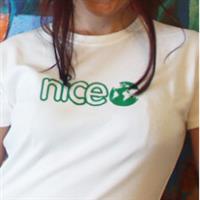 Product by:
Nice World Clothing


Nice World Clothing prides itself on our Organic Cotton T-Shirts, fair trade clothes and great quality Ethical Clothing. We are an ethical company who cares for the environment, our customers and fair pay over anything else.
Our t-shirts and camisoles are made from high quality organic cotton. They are certified under the Global Organic Textile Standard. They are also Fair Wear Foundation licensed also the materials are all certified organic in the UK by the Soil Association.
For all our Organic Cotton T-Shirts, we use an eco printing process. It utilises PVC & phalate free inks.
All of our Organic Clothes or t-shirt graphics are 100% original, and some includes environmental commentary. We also welcome any orders from green organisations who also seek to raise awareness of environmental issues by using our creative designs and range of t-shirts. We hope that all our customers will also be proud of being part of this green and fairtrade economy.
Please use the Contact form on the right for Organic Cotton T-Shirts information and ordering.