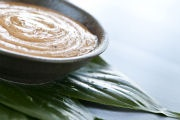 Product by:
Essential Oils and Aromatherapy Supplies


Organic Body Scrub Gel is excellent cooling and soothing, all over body scrub gel.

It contains pulverized walnut sheel to exfoliate the skin leaving it feeling smooth and clean.
The gel has been made as much as is possible from natural materials.
All ingredients of this product have been carefully chosen to be as Efficient and friendly as possible.
It includes no artificial colouring or fragrance and is safe to use on sensitive skin.

Ingredients:

Aqua, Olive Oil (Oleo Europaea), Walnut Shell, Glycerin, Carbomer, Aloe Vera (Aloe Barbadensis), Phenoxyethanol.
The supplement of herbal extracts, and other Additives may be possible but will need some experimentation.
Please use the Contact form on the right for Organic Body Scrub Gel information and ordering.