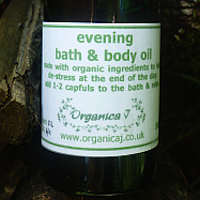 Product by:
Organica J


Welcome to Organica J, where we have a great range of Organic Aromatherapy Products and Gifts. This includes eco organic products, comfrey ointment, pure essential Oils, organic soaps, beeswax candles, nourishing hand balm, calendula ointment for eczema sufferers and loads more.
One of our favourite is our Restful Evening Aromatherapy Bath & Body oil. It is a calming and relaxing combination of organic essential oils. It includes the relaxing scents of lavender, rose geranium and roman chamomile. A drop of this in your bath helps you regain tranquility and soothes your mind and soul.
It works great as a bath oil. Just add a bit to your bath and swirl the water to help disperse. The essential oils will penetrate into skin and the oils leave it feeling smooth, soft, moisturised and well nourished. It is one of our best selling Organic Aromatherapy Products and Gifts.
Please use the Contact form on the right for Organic Aromatherapy Products and Gifts information and ordering.