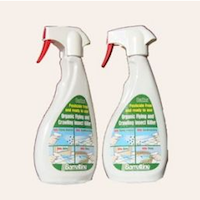 Product by:
Pest Control UK ltd


At Pest Control UK, we have a huge range of Non-toxic, Natural and organic Pest Control products. If you are concerned about the environment and the affect of using harsh chemicals that are usually found in traditional toxic pest control products, then we recommend that you try using some Eco Pest Control. They are natural, non-toxic, organic and works just as well without harming your family's health and wellbeing.
All our natural and Green Pest Control products come with guarnatee you piece of mind. If you are a pet owner that's even better because our organic alternatives as 100% harmless to household pets and is only dangerous and harmful to those pests that you are attempting to rid yourself of.
On top of our Natural and Organic Pest Control, we also have some Chemical-free Pest Control varieties such as our 0a2ki Organic Insect Killer Powder. It is an unique eco natural, non-toxic and certified organic product in that is designed to be applied directly to pets to prevent fleas and other nasties. It is a safe and effective alternative where harsher chemical based insecticides may not be desirable.
Please use the Contact form on the right for Natural and Organic Pest Control information and ordering.