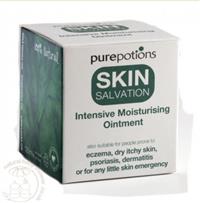 Product by:
Natural Baby Shower


Here at Natural Baby Shower, one of our life savers is our Natural Skin Care Ointment. We are the natural space for relaxation and salvation. For parents to be, new mummies and new babies to enter.
We features a whole bunch of gorgeous green gifts, organic clothing, sustainable wooden toys, lovely things for the mum, and so much more.
This Natural Skin Care Ointment is a favourite beauty Product of ours. It is part of our Eco Skin Care range as it is a completely natural salve.
That is, all of it's Natural Ingredients are nourishing, moisturising and protective. It is suitable for people prone to eczema,psoriasis and sensitive skin.
This is part of our range of Natural Beauty Products which is steroid free. It can be applied to any part of the body, and as often as needed.
You can apply thickly it before bed to reduce night time itching. It is safe for use on babies and children and can also be used on the face.
Please use the Contact form on the right for Natural Skin Care Ointment information and ordering.