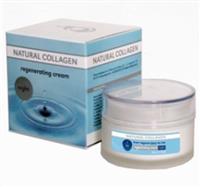 Product by:
Natural Skin Care


At Collagen UK, our current best seller is our Natural Regenerating Collagen Night Cream. In fact, our whole range of Beauty Products, collagen creams and serums contain our secret Eco Skin Care ingredients. That is, our biologically active collagen gel.
This is what makes our Skin Care Products so effective, that they work almost like magic. It has been scientifically proven to increase the rate your body naturally produces and creates collagen. Also, it contains a large amount of premium ingredients like: aloe vera, caffeine and Matrixyl 3000. All these ingredients has been found to increase the rate of collagen production within the human body.
Our special Natural Regenerating Collagen Night Cream is one of our most popular Eco-friendly Products in our Green Skin Care range. It contains powerful anti-aging capabilities and helps:
Improve skin rejuvenation process, deep skin hydration, eliminates fine lines & wrinkles, improves skin firmness and elasticity.
Please use the Contact form on the right for Natural Regenerating Collagen Night Cream information and ordering.