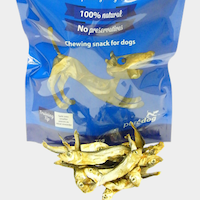 Product by:
Pure Dog


The Pure Dog is all about Natural Pet Food. We feature simple and nutritious Green Pet Products, dog treats, dog chews and even dog training rewards.
Most of our products are ethically sourced from certified European producers. Our Pet and dog snacks are natural, long-lasting and healthy.
One of our favourite Green Pet Food, Natural Pet Food and Pet Snacks is our Pure Dog Whole Dried Sprats. It is very nutritious and healthy for your dog as it's high in omega 3 and protein. They are super tasty and easy to incorporate into your dog's diet.
They work perfectly as training rewards as they can be separated into smaller pieces. It is no fried, but gently air dried and comes with a guarantee of 100% natural with no preservatives.
Please use the Contact form on the right for Natural Pet Food information and ordering.